New on the Needles
I started a new shawl.

This is Miralda's shawl from Knitted Lace of Estonia (Interweave Press) by Nancy Bush.
I'm using some lovely Malabrigo Lace in the Velvet Grapes colourway that Joey bought me for Christmas. Mmm… Malabrigo. The pattern is written from the bottom up, and contains many nupps. Because of the nupps I decided to grab my Fixed Addi Lace needles as they have the sharpest points in my collection.
When I am working a large number of cast on stitches, I like to place a marker every 25 stitches. This prevents a lot of recounting… something especially important when you have a cold and are casting on in a room with two loud children.
I'm currently on row 14 of the Lace Edge chart, and I'm really pleased with how this is turning out thus far.
Active WIPs
Icelandic Yoke Cardi — (Istex pattern; Rowan Scottish tweed yarn) No progress this week, however I'm going into town in the next couple of days on a search for buttons so that I can get this puppy wrapped up soon. The heat has broken, and I'm ready to finish.
Annis — (Susanna IC pattern via Knitty; handspun 2ply heavy laceweight; fibre from Spinning a Yarn (Etsy)) Done! but not blocked. I finished it up right before bedtime on Saturday then came down with a cold or allergies or something equally dreadful on Sunday. I'll block it when I'm feeling alive again. I refuse to block lace with a foggy head.
Travelling socks — (My own design; handdyed BFL sock from Wildcraft) I always have socks on the go for when I'm on the go. I'm on the second sock. Eventually I'll even post a photo of them… they never get worked on at home.
The UFO Pile
Oh, the dreaded UFOs. Let's have a quick look through of what is there, what is being frogged, and what will be kept.
Boneyard Shawl

This is 2ply handspun in a gradient colourway called Speedwell. It was a Wildcraft Club fibre from July 2010. I love this yarn. It was going to be a cardigan, but that never got off the ground as I couldn't figure out how to deal with the sleeves (remember, gradient). I decided a Citron would be great for a gradient. I was into the third section when I decided that the yarn just wasn't right for the shawl. I frogged and started a Boneyard shawl but I got this far and decided the yarn deserved better. I'm still trying to figure out a pattern. Got a suggestion? The yarn is a heavy fingering/light sport and I have 610 metres.
Verdict: FROGGED.
Heart Socks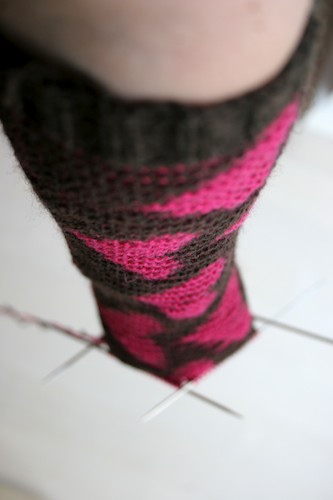 I started these in response to a KAL for illusion knitting. I'm using Regia 4ply in an Espresso brown and a hot pink, and I love how they knit up. Absolutely in love. The problem? The foot is huge! I'm knitting on my standard size of sock needles, but the foot is just way too big. They got put down whilst I had a think. I still love the socks. I think the only real way to salvage them it to rip back to the heel turn and knit a plain foot. I'd need to take out too many stitches to be able to keep the pattern, so a plain foot (or a size 1.5mm needle which isn't going to happen) is the only option.
Verdict: FINISH with a plain brown foot.
Thing 1's tomten.

It is this close to finished. It needs button bands and seaming up. That's it. Why did I put it down? I have a dreaded feeling that I'm going to run out of yarn (and I'm not overly fussed about knitting button bands if you want to know the honest truth). The red is handspun Shetland that I had Karen from Wildcraft custom dye for me. There is no getting more. To help ease the yarn shortage, I decided to add contrasting cuffs and suspenders using some doubled up Hija 3 (a norwegian yarn that is very easy to get locally). I'm not sure if it is enough. I really need to bite the bullet and try to finish it.
Verdict: FINISH (and hope the yarn fairy is good to me)
Colourwork… um, something.

Yeah. It might be a swatch. I'm not certain. There is six rounds complete so it is hard to tell.
Verdict: FROGGED.
Handspun October Frost.

This is likely my oldest WIP. The yarn was spun during Tour de Fleece 2009 and is a 3ply natural brown merino. I love this yarn. This yarn has bounce. I spun it i hopes of making an October Frost from A Fine Fleece. Of course, I didn't take the easy road, but instead decided to do it top down rather than bottom up as I wanted to be able to add in a certain amount of waist-shaping (there is none in the pattern), and I was worried about fit, and thought this way I'd be able to try it on as I went.
I'm on row 14 of the chart(s) on the final front before I join under the arms. I don't know why I know this, as I never wrote it down, but I do. I had to put it down as I didn't have the ability to concentrate on such a project. I still love this cardi and I'll take the knowledge of knowing exactly where I am as a sign for the moment.
Verdict: FINISH
Thing 2's Calendula Cardi.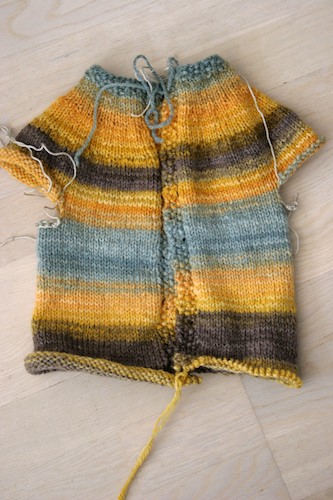 As soon as I knew I was pregnant with Thing 2 I had Karen dyed me up some SW Cheviot in the Calendulas colourway. I spun it. I started knitting it around the same time I developed pregnancy related carpal tunnel. Somedays I was lucky to be able to knit one row as my hands were so badly off. Eventually it ended up tucked away as we were moving to Denmark at about the same time my hands were getting back to (mostly) normal.
The cardi will no longer fit. I still love the yarn. It can be something else for Thing 2. A hood, maybe?
Verdict: FROGGED.
Thing 2's BSJ.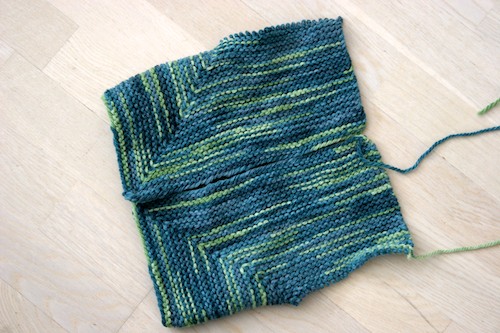 I got this yarn in a destash as was hoping to knit up a BSJ and trousers for Thing 2. Then the whole carpal tunnel and moving thing happened. Yep. It won't fit anymore. However, I have lots of this yarn and can easily make a different cardi in a size that will fit this year. Or next. Or the year after that. I have lots of yarn.
Verdict: FROGGED.
My knitting basket looks much cleaner now, and I've reclaimed some needles. And all this happened because Thing 2 (who will be 1 year old next week) decided he was curious about mummy's knitting basket.
Comments
Thank you for the shot of your Miralda's Shawl with just the cast-on. It's good for knitters to remember that even something as involved as a lace shawl starts small and builds up on row, or round, at a time.
Please, please, please knit more with the lime green/turquoisy colors! Quite intriguing.
— Kelley Petkun · 31 May 2012, 16:22 · #