I was inspired to do a bit of stamping on my postcards, so I looked around for a few objects on my desk that would make good stamps. I choose a piece of plastic canvas mesh, a rubber on the end of a pencil and a chipboard embellishment in my scrapping stash. I use Pebeo setacolour fabric paints to act as my stamping medium and had a bit of a play. I'm quite chuffed at how the postcard turned out, but I'm even more pleased about how that little chipboard embellishment piece looks with the paint on it. I decided not to clean it as I want to use it as is on a future piece. :)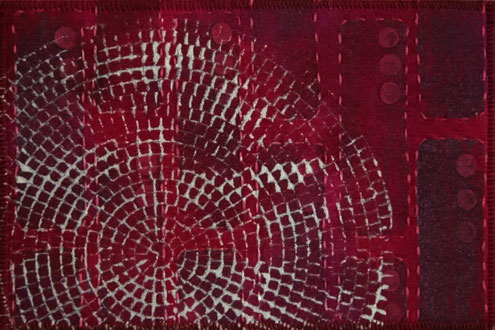 I'm using this piece for my 'abstract' theme for the Textile Tuesday challenge
Comments
card is beautiful…could you explain chipboard embellishment…is it carved or indented?
— Ann Morrell · 27 January 2007, 17:52 · #
Chipboard is like pressed cardboard (not corrugated — it's like the stuff that backs a pad of paper), which in this case was coated and had a slight woven texture. (it was meant as a scrapbook embellishment). To be honest, all I really wanted was the shape, but the texture did aid a bit, too.
You could just as easily do the same thing with funky foam or cut a shape out of chipboard/card you had around the house.
— Chriss Coleman · 28 January 2007, 06:56 · #
I like how this turned out, great ideas! Your flower cards are beautiful also.
LOVE how it turned out!!!
GREAT JOB on your postcards – they are FABULOUS!!!
The red card is fab !! I really like the geometric shapes against eachother, and the color is very good.
Wow, love this card. Cool design and colour.
— Karin · 29 January 2007, 13:41 · #
This is beautiful it turned out fabulous you smaty pants girl you :):)
— Dianne · 31 January 2007, 12:14 · #