Category: ATCs
Articles in the ATCs category
The ATC was done in the same manner as I did the leaf page as I wanted to be able to give each of the participants a 'piece' of the book to remember. I had far too much fun stitching all those leaves. :)
Just as a note, I fused the background fabric to Pelmet Vilene using Bondaweb and cut out pieces that were slightly larger than ATC size before doing the FME to create a more stable base. Once the stitching was finished, I cut the ATCs down to the correct dimensions.
These were so much fun to do. :)
The background were made by smearing dye inkpads across the cardstock and blending them with a babywipe. The backgrounds were then stamped with versamark and lightly chalked with a similar colour to the background. The borders were created using Sakura glaze pens of a similar colour dotted along the edges.
The puzzle pieces themselves were cut from chipboard, painted with layers of gesso and acrylic to create a light texture, wiped with a neutral dye inkpad and blended in with a baby wipe. Once dry, the piece were stamped and the edges were guilded with a metallic gold paint pen.
This was for the Travel: America, Russia, Australia swap. I had so much fun with this! Since I didn't have any appropriate images available, I sketched these out in ink by hand and they were coloured with watercolour pencils and colouring pencils. I forgot how long it's been since I've sketched… it felt really good, but I think this is something I need to do far more often as I felt so rusty. I tried to pick out some famous landmarks for each country—the Golden Gate bridge, St. Basil's basilica, and Sydney skyline—although I admit to taking a few liberties.
These have already gone postal… I think the intention of the swap was to do cards like the one on the left, but as I generally have a hard time not bending the rules a bit I only did one like that. Personally, I'm quite partial to the middle one…. it's probably the colour. :)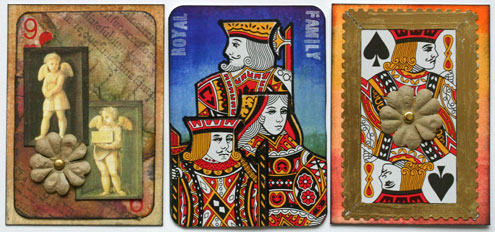 Lots of stuff on here, but big thanks to Lynette for the images on the 9 of hearts (by Blue Cardigan, now owned by Imagination Project. I've been saving them for a specific project but I figured I could spare a couple) and to Anna for the Prima flowers.
When my fabric book went out on Thursday (yeah!) I also sent out these ATCs, one for each participant, as a thank you. They are done in the same manner as the Sign-In page, with each personalized with the first initial of each participant, one for myself, and I ended up with an extra simply because I had enough fabric and didn't want it to go to waste.
Hope you like them ladies! :)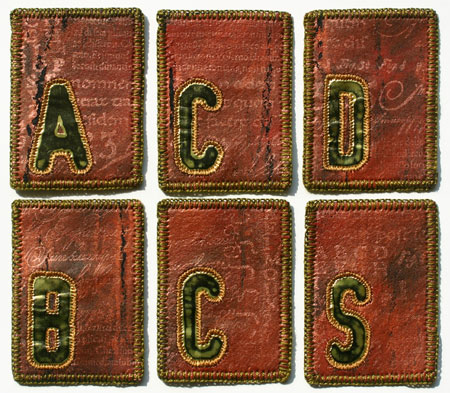 I couldn't help but sign up for this swap. With my background in textiles and a love for vintage items, this swap was simply calling my name. These go postal on Monday. :)
This'll be the last of my ATCs until I finish off my Fabric Book RR…. unless of course I have some time to kill while my fabric dries. ;)